Himanshu Gupta, who sold tea with his father and saw the dream of clearing the UPSC exam.
Himanshu Gupta of Bareilly faced a lot of difficulties while travelling from a small village to UPSC but never put his dreams in cold storage.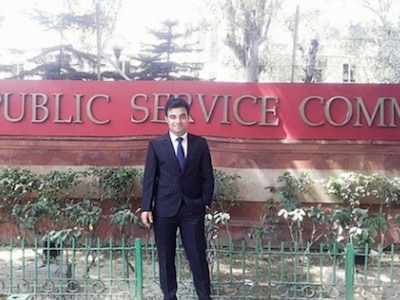 When, Children of small places dream big then it is not easy to realize them. They have to put in extra effort for a successful life. Because they do not even have the necessary resources to succeed. Himanshu of Sirauli, a small village in UP Bareilly, used to watch the lifestyle of big and successful people on TV so he was very attracted and one day wanted to be able to be a part of such a life. But the ground of truth is very hard and big dreams are broken by falling on it. But a son of daily laborer did not let his dreams break rather woven them and very lovingly. After all, this boy who sold tea with his father, became an officer after passing the UPSC exam.
Childhood of Himanshu :-
Himanshu's childhood was not like that of ordinary children. He spent days in extreme poverty. His father used to work as a daily wage laborer. After that he started selling tea. Himanshu also used to help his father in this work after school. While sharing tea, they saw some people that they can not even count the money on their fingers and think how important education is in life. At the same time, he decided that he would change his life only by making education a tool. The difficulties of Himanshu's childhood can be gauged from the fact that his school was 35 km from home. He used to travel 70 kilometers every day only to get basic education. After that he used to help Father in a tea stall.
In such a situation, you can guess yourself how much time they would get for studying but Himanshu was sharp of mind and learned things quickly and they took less time to study than other students. Similarly, Himanshu took education up to class 12th. Himanshu's father later took the General store shop which still exists today.
Himanshu prepares for UPSC without Coaching :-
There were two reasons for Himanshu to study in coaching classes. One is the money and the other is the self-study because of always trusting only self-study. Himanshu gave the exam by preparing himself but failed badly in the first appearance. This situation was also very bad for himself and their family. Himanshu took JRF and started doing MPhil and money came from this decision but it was very difficult to manage the time between Civil Services and research. As we know, UPSC exam demands full time devotion but Himanshu had no option. They were also not among the retreaters. His civil services result came in April 2019, Himanshu gets selected. The examination for the year 2018, whose result was in 2019. His rank was 304. Himanshu and his family were very happy.
Himanshu tell about the old days in an Interview :-
When he reached Hindu College in Delhi after class 12, this was the first time he had stepped into a metro city. While researching for good institutes in his father's phone, he read about Delhi University. Luckily his scores were good and he got admission. Since coming here, till further studies, Himanshu did many work to solve the money problem. They teach tuition, and achieve scholarship wherever possible this is how his education was completed. He graduated MSc after graduation and the ability of Himanshu is revealed from here that he passed the UGC NET exam three times in the meantime. Not only this, bring single digit rank in GATE exam and also topped in his own college.
This greatly increased the confidence of Himanshu and they began to think that they had the ability to achieve something even greater. In the meantime, he also had the opportunity to go abroad and pursue his PhD, but he chose to stay with his parents in his country and in the country. Who taught them so hard. This was the time when Himanshu started thinking very seriously about civil services.
Himanshu's Advice:-
Himanshu says from his experience that it does not matter that you are from a small place, Have you studied from a small school or what is the financial condition of your parents. If your dreams are big then you can reach anywhere in life. Your job will take you from one career to another but your dreams can take you anywhere. So dream up, work hard, and believe in yourself because dreams come true.