Pandya Store is an Indian television drama series which is produced by Sunjoy Wadhwa under the banner of Sphere Origin. The show premiered on 25 January 2021 on Star Plus. The series is a remake of Star Vijay's Tamil series Pandian Stores. It stars Kinshuk Mahajan, Shiny Doshi, Kanwar Dhillon, Alice Kaushik, Akshay Kharodia, Simran Budharup and Mohit Parmar.
The story of Pandya Store revolves around a joint family and their unity. Gautam lives happily with his three younger brothers, his wife and his mother. Gautam and his wife look after the younger siblings as their children. The family owns a store named Pandya Store, which is quite popular among locals. But due to some problems, Gautam has to mortgage his love store. The TV show shows how the family stays together and faces different situations in life.
The story of the Pandya Store revolves around the difficulties Gautam and Dhara face to save their mortgaged home and the Pandya Store. The story continues when Gautam and Dhara are married and come to the Pandya Store on the first day of marriage. The lawyer comes to the store and hands the Store's mortgage papers to Gautam, which makes him tense. In addition, Dhara inspires Gautam and becomes a family support system for taking care of his three younger brothers.
Shiny Doshi is Playing Dhara's female lead role. Kinshuk Mahajan is playing the male lead of Gautam Pandya. Kruttika Desai is playing the role of Suman Pandya (Gautam's mother). Akshay Kharodia plays the role of Dev Pandya, Kanwar Dhillon plays the role of Shiva and Mohit Parmar plays the role of Krish Pandya. All these three are Gautam's younger brothers. Alice Kaushik is playing the role of Raavi Pandya (Shiva's wife) and Simran Budharup is playing the role of Rishita Pandya (Dev's wife).
Name
Pandya Store
Main Cast
Kinshuk Mahajan and Shiny Doshi
Genre
Drama
Director
Pradip Yadav
Producer
Sunjoy Waddhwa
Komal Sunjoy Waddhwa
Story & Screenplay
Shilpa Choubey
Sushil Choubey
Dialogue
Raghuvir Shekhawat
Editor
Janak Chauhan
DoP
Santosh Suryavanshi
Music
Sargam Jassu
Nakash Aziz
Project Head
Sumit Dubey
Creative Director
Aman Jain
Dharmi Chheda
Kashvi Sharma
Production House
Sphereorigins Multivision Private Limited
Pandya Store Starting Date / Repeat Telecast Timing
The most-watched and popular Star Plus show Pandya Store starts from 25th January 2021. You can watch the show on Star Plus and Disney Plus Hotstar. The running time of the show is from Monday to Saturday from 7:30 PM.
| | |
| --- | --- |
| Show name | Pandya Store (पंड्या स्टोर) |
| Channel | Star Plus & Disney + Hotstar |
| Produced By | Sphere Origins |
| Starting Date | 25th January 2021 |
| Telecast Time | Mon-Sat at 11:00 PM |
| New Timing | Mon-Sat at 7:30 PM |
| Repeat Telecast | Mon-Sat at 10:00 AM |
Pandya Store Cast / Real Name
Listed below is the main cast of the star plus show Pandya Store. Check out below to known real names of many actors.
Role Name
Real Name
Role
1
Gautam Pandya
Kinshuk Mahajan
Dhara's husband
2
Dhara Pandya
Shiny Doshi
Gautam's wife
3
Shiva Pandya
Kanwar Dhillon
Gautam's brother
4
Krish Pandya
Mohit Parmar
Gautam's brother
5
Dev Pandya
Akshay Kharodia
Gautam's brother
6
Young Dev Pandya
Jovian Fernandes
Gautam's brother
7
Young Shiva Pandya
Swarnim
Gautam's brother
8
Young Krish Pandya
Harminder
Gautam's brother
9
Not known
Shyam Makhecha
Not known
10
Jignesh
Mohit Sharma
Anita's father
(Prafulla's brother)
11
Prafulla
Pallavi Rao
Gautam's mami
12
Jagat Narayan
Krunal Pandit
Prafula's husband
13
Not known
Garima Parihar
Not known
14
Suman
Kruttika Desai
Gautam's mother
15
Anita
Shrishti Maheshwari
Gautam's friend
16
Darshan
Farrukh Saeed
Gautam's father
17
Hardik
Not known
Dhara's brother
(Gautam's friend)
18
Aavi
Not known
Not known
19
Saroj
Aarti Sharma
Anita's mother
20
Raavi
Alice Kaushik
Shiva's wife
21
Rishita
Simran Budharup
Dev's wife
22
Keerti Seth
Shruti Bisht
Rishita's sister
23
Kalyani Seth
Geetika Shyam
Rishita's mother
24
Janardhan Seth
Vijay Badlani
Rishita's father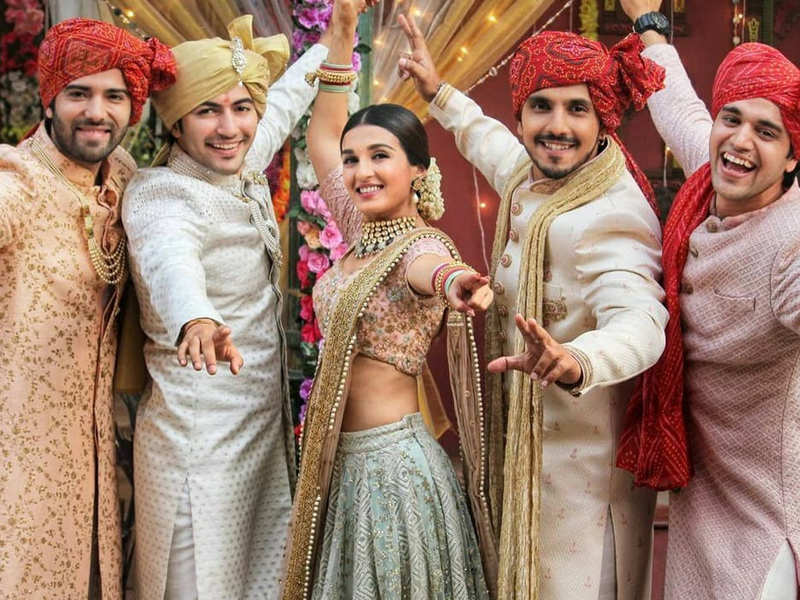 FAQ
What is Shiva Pandya's real name?
Shiva Pandya Real Name is Kanwar Dhillon.
What is Gautam Pandya's real name?
Gautam Pandya Real Name is Kinshuk Mahajan.
What is Krish Pandya's real name ?
Krish Pandya Real Name is Mohit Parmar.
Where to watch the show Yeh Rishta Kya Kehlata Hai ?
You can watch the show on Star Plus & Disney + Hotstar
What is the timing of the show ?
Monday to Friday at Mon-Sat at 7:30 PM.