Mehndi Hai Rachne Waali is an Indian television drama series which is produced by Sandiip Sikcand and SOL Productions. The show premiered on 15 February 2021 on Star Plus. The series is based on Stra Maa's Telugu series Gorintaku. It stars Shivangi Khedkar and Sai Ketan Rao. 
The story of Mehndi Hai Rachne Waali serial revolves around a hard-working widowed woman named Pallavi who loves her family very much and sacrifices everything to fulfill all their needs. She is very scared to get married. Later Pallavi meets a local goon and from there the story begins.
The female lead role of Pallavi is played by Shivangi Khedkar. While the male lead role of Raghu is played by Sai Ketan Rao.
Name
Mehndi Hai Rachne Waali
Main Cast
Shivangi Khedkar and Sai Ketan Rao
Genre
Drama
Director
Hemant R Prabhu
Jignesh Vaishnav
Rohit Fulari
Producer
Fazila Allana
Sandiip Sikcand
Veenaa Sikcand
Kamna Nirula Menezes
Concept
Sandiip Sikcand
Story
Abhijeet Guru
Shantasree Sarkar
Sonakshi Khandelwal
Screenplay
Nidhi Singh
Sonali Gupta Shrivastava
Editor
Prerit Vyas
Swapnil S Nerurkar
Akshat Jaimini
Om Tale
Mohit Varshney
DoP
Sadanand Pillai
Music
Shubham Sundaram
Prakash Gaikwad
Operation Head
Ankur Seth
Pravin Bandodkar
Production House
SOL Productions Pvt Ltd.
Sandip Films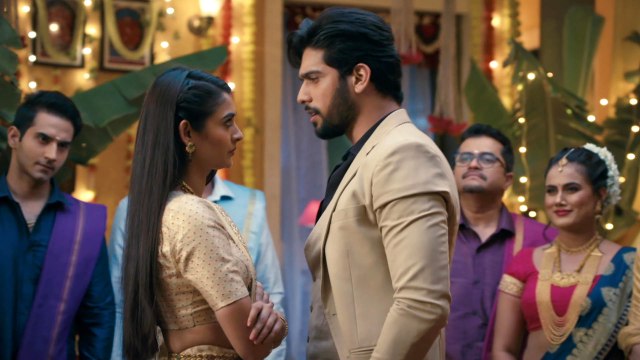 Mehndi Hai Rachne Wali Starting Date / Repeat Telecast Timing
Star plus well known Daily Drama show Mehndi Hai Rachne Waali is available on Star Plus & Disney+ Hotstar. The show is produced by Sandip Sikcand and SOL Productions and directed by Hemant Prabhu. The show begains from 15th February 2021. You can watch the show on Star plus or Disney+ Hotstar every monday to saturday at 6;30 PM.
| | |
| --- | --- |
| Show name | Mehndi Hai Rachne Wali (मेहंदी है रचने वाली) |
| Channel | Star Plus & Disney+ Hotstar |
| Produced By | Sandip Sikcand and SOL Productions |
| Directed By | Hemant Prabhu |
| Starting Date | 15th February 2021 |
| Telecast Time | Mon-Sat at 6:30 PM |
| Repeat Telecast | N/A |
Mehndi Hai Rachne Wali Cast / Real Name
S. no.
Role Name
Real Name
Role
1
Pallavi Deshmukh
Shivangi Khedkar
Deshmukh Saree's employee
2
Raghav Rao
Sai Ketan Rao
Businessman
3
Vijay Deshmukh
Milind Phatak
Pallavi's father-in-law
4
Sharda Deshmukh
Asmita Ajgaonkar
Pallavi's mother-in-law
5
Sulochana Deshmukh
Snehal Reddy
Milind's wife
6
Mansi Deshmukh
Rutuja Sawant
Milind's elder daughter
7
Amrita Deshmukh
Priyanka Dhavale
Milind's young daughter
8
Kirti
Sayli Salunkhe
Not known
9
Nikhil Deshmukh
Karan Manocha
Not known
10
Farhad
Himanshu Bamzai
Raghav's friend
11
Not known
Krishna Kaurav
Not known
12
Not known
Ragini Shah
Kirti's mother
13
Krishna
Snehal Borkar
Deshmukh Saree's employee
14
Anuradha
Not known
Krishna's mother
15
Milind Deshmukh
Anjinkya Joshi
Sulochana's husband
(Vijay's brother)
16
Mandar Deshmukh
Ashok Phal Desai
Pallavi's husband
(Vijay's son)
Some Other Star Cast in the TV Serial Mehndi Hai Rachna Waali:
Himanshu Bamzai As Farhad: Raghav's right-hand man
Snehal Borkar as Krishna: Pallavi's friend
Sarika Raghwa as Anjali: Raghav's fling
Gourav Raj Puri as Rahul: Mansi's fiancé
Sonal Palan as Asha: Rahul's mother
Saim Khan as Akash: Pallavi and Keerti's friend
Manoj Kaushik as Siddesh: Pallavi's brother
Payal Singh as Pawani: Siddesh's wife and Pallavi's sister in law
Ajinkya Joshi as Milind Deshmukh: Vijay's brother
Kushagre Dua as Sunny Ahuja 
Ragini Shah/Geeta Tyagi as Jaya Rao: Raghav and Keerti's mother
Ankit Gulati as Antagonist Vedant aka Lion
FAQ
What is Pallavi Deshmukh's real name?
Pallavi Deshmukh's Real Name is Shivangi Khedkar
what is Raghav Rao's real name in Mehndi Hai Rachna Waali?
Raghav Rao's Real Name is Sai Ketan Rao
What is Vijay Deshmukh's real name?
Vijay Deshmukh's Real Name is Milind Phatak
what is Sharda Deshmukh's real name?
Sharda Deshmukh's Real Name is Asmita Ajgaonkar
How is the producer of the Shows Mehndi Hai Rachna Waali?
The show is been produced by Sandip Sikcand and SOL Productions
Where to watch the show Aapki Nazron Ne Samjha?
You can watch the show on Star Plus & Disney + Hotstar
What is the timing of the show?
Mon-Sat at 6:30 PM