Robert Lee Frost was an American poet who was born on 26 March 1874 in San Francisco, California, US, and died on 29 January 1963 at the age of 88 in Boston Massachusetts, US. His work was initially published in England before it was published in the United States. Known for his realistic depictions of rural life and his command of American colloquial speech, Frost frequently wrote about settings from rural life in New England in the early 20th century, using them to examine complex social and philosophical themes.
Frost was honored frequently during his lifetime and is the only poet to receive four Pulitzer Prizes for Poetry. He became one of America's rare "public literary figures, almost an artistic institution." He was awarded the Congressional Gold Medal in 1960 for his poetic works. On July 22, 1961, Frost was named poet laureate of Vermont.
Robert Frost was born on March 26, 1874, in San Francisco, where his father, William Prescott Frost Jr., and his mother, Isabelle Moodie, had moved from Pennsylvania shortly after marrying. After the death of his father from tuberculosis when Frost was eleven years old, he moved with his mother and sister, Jeanie, who was two years younger, to Lawrence, Massachusetts. He became interested in reading and writing poetry during his high school years in Lawrence, enrolled at Dartmouth College in Hanover, New Hampshire, in 1892, and later at Harvard University in Boston, though he never earned a formal college degree.
Robert Frost Bio
| | |
| --- | --- |
| Name | Robert Frost |
| Birthday | 26 March 1874 |
| Nationality | American |
| Sun Sign | Aries |
| Born in | San Francisco, California |
| Famous as | Poet |
| | |
Robert Frost Family
| | |
| --- | --- |
| Spouse | Elinor Miriam White |
| Father | William Prescott Frost Jr. |
| Mother | Isabelle Moodie |
| Siblings | Jeanie |
| Children | Carol Frost, Elinor Bettina Frost, Elliot Frost, Irma Frost, Lesley Frost Ballantine, Marjorie Frost |
| | |
Robert Frost Death Anniversary
| | |
| --- | --- |
| Died on | 29 January 1963 |
| Place of Death | Boston, Massachusetts,, United States |
| US State | California |
| City | San Francisco, California |
| Epitaphs | I Had A Lover's Quarrel With The World |
Some Books by Robert Frost
Stopping by Woods on a Snowy Evening in 1923
The poetry of Robert Frost in 1962
A Boy's Will in 1913
Nothing Gold Can Stay in 1923
Mending Wall in 1914
Mountain Interval in 1916
The road not taken Robert Frost in 1951
Selected Poems by Robert Frost in 1917
The Death of the Hired Man in 1914
Home Burial in 1914
Out, Out— in 1916
A Further Range in 1936
A Witness Tree in 1942
West-Running Brook in 1928
North of Boston in 1914
Acquainted with the Night in 1928
The Oven Bird
You Come Too: Favorite Poems for Young Readers Robert Frost in 1959
In the Clearing by Robert Frost in 1957
Christmas trees Robert Frost in 1916
A Swinger of Birches 1957
A Prayer in Spring
From snow to sno in 1936
Versed in country things
Poetry for Kids: Robert Frost in 2017
A Boy's Will and North of Boston Robert Frost
The Cow in Apple Time
Miles to Go: Collected Poems by Robert Frost, Illustrated by Evan Robertson
The runaway Robert Frost in 1923
The Prophets Really Prophesy as Mystics, the Commentators Merely by Statistics: A New Poem Robert Frost
Robert Frost Plays
A Way Out: A One Act Play (Harbor Press).
The Cow's in the Corn: A One Act Irish Play in Rhyme (Slide Mountain Press).
A Masque of Reason (Holt).
A Masque of Mercy (Holt).
Robert Frost Letters
The Letters of Robert Frost to Louis Untermeyer (Holt, Rinehart & Winston; Cape, 1964).
Robert Frost and John Bartlett: The Record of a Friendship, by Margaret Bartlett Anderson (Holt, Rinehart & Winston).
Selected Letters of Robert Frost (Holt, Rinehart & Winston).
Family Letters of Robert and Elinor Frost (State University of New York Press).
Robert Frost and Sidney Cox: Forty Years of Friendship (University Press of New England).
The Letters of Robert Frost, Volume 1, 1886–1920, edited by Donald Sheehy, Mark Richardson, and Robert Faggen. Belknap Press.
The Letters of Robert Frost, Volume 2, 1920–1928, edited by Donald Sheehy, Mark Richardson, Robert Bernard Hass, and Henry Atmore. Belknap Press.
Robert Frost Inspirational & Motivational Quotes
Poetry is when an emotion has found its thought and the thought has found words. – Robert Frost
The figure a poem makes. It begins in delight and ends in wisdom… in a clarification of life – not necessarily a great clarification, such as sects and cults are founded on, but in a momentary stay against confusion. – Robert Frost
Education doesn't change life much. It just lifts trouble to a higher plane of regard. – Robert Frost
The greatest thing in family life is to take a hint when a hint is intended-and not to take a hint when a hint isn't intended. – Robert Frost
I'd just as soon play tennis with the net down. – Robert Frost
I always entertain great hopes. – Robert Frost
Poetry is about the grief. Politics is about the grievance. – Robert Frost
The strongest and most effective force in guaranteeing the long-term maintenance of power is not violence in all the forms deployed by the dominant to control the dominated, but consent in all the forms in which the dominated acquiesce in their own domination. – Robert Frost
A bank is a place where they lend you an umbrella in fair weather and ask for it back when it begins to rain. – Robert Frost
It's a funny thing that when a man hasn't anything on earth to worry about, he goes off and gets married. – Robert Frost
A successful lawsuit is the one worn by a policeman. – Robert Frost
Two roads diverged in a wood and I – I took the one less traveled by, and that has made all the difference. – Robert Frost
Poetry is a way of taking life by the throat. – Robert Frost
A diplomat is a man who always remembers a woman's birthday but never remembers her age. – Robert Frost
Most of the change we think we see in life is due to truths being in and out of favor. – Robert Frost
Love is an irresistible desire to be irresistibly desired. – Robert Frost
The best way out is always through. – Robert Frost
There are two kinds of teachers: the kind that fill you with so much quail shot that you can't move, and the kind that just gives you a little prod behind and you jump to the skies. – Robert Frost
A poem begins as a lump in the throat, a sense of wrong, a homesickness, a lovesickness. – Robert Frost
Humor is the most engaging cowardice. – Robert Frost
Happiness makes up in height for what it lacks in length. – Robert Frost
A poem begins in delight and ends in wisdom. – Robert Frost
Being the boss anywhere is lonely. Being a female boss in a world of mostly men is especially so. – Robert Frost
Education is hanging around until you've caught on. – Robert Frost
A civilized society is one which tolerates eccentricity to the point of doubtful sanity. – Robert Frost
If society fits you comfortably enough, you call it freedom. – Robert Frost
Forgive me my nonsense, as I also forgive the nonsense of those that think they talk sense. – Robert Frost
Space ails us moderns: we are sick with space. – Robert Frost
The woods are lovely, dark and deep. But I have promises to keep, and miles to go before I sleep. – Robert Frost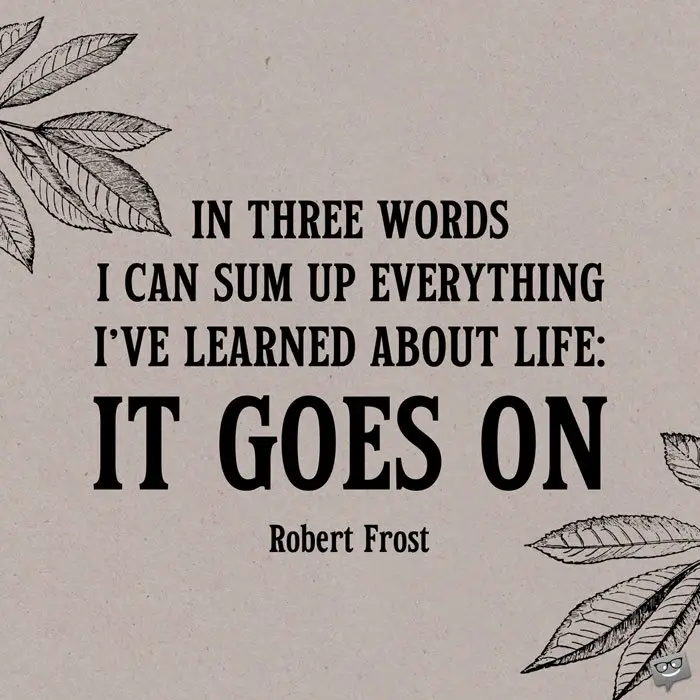 In three words I can sum up everything I've learned about life: it goes on. – Robert Frost
I never dared to be radical when young for fear it would make me conservative when old. – Robert Frost
The artist in me cries out for design. – Robert Frost
Home is the place where, when you have to go there, they have to take you in. – Robert Frost
Education is the ability to listen to almost anything without losing your temper or your self-confidence. – Robert Frost
A person will sometimes devote all his life to the development of one part of his body – the wishbone. – Robert Frost
Freedom lies in being bold. – Robert Frost
You don't have to deserve your mother's love. You have to deserve your father's. – Robert Frost
Half the world is composed of people who have something to say and can't, and the other half who have nothing to say and keep on saying it. – Robert Frost
You have freedom when you're easy in your harness. – Robert Frost
I alone of English writers have consciously set myself to make music out of what I may call the sound of sense. – Robert Frost
Forgive, O Lord, my little jokes on Thee, and I'll forgive Thy great big joke on me. – Robert Frost
Poetry is what gets lost in translation. – Robert Frost