David Murrey Pilkey Jr. is an American Cartoonist, author and illustrator of children's literature, Pilkey is best known as the author and illustrator of the children's book series Captain Underpants, and the children's graphic novel series Dog Man. David Pilkey was born on 4 March in 1966 in Cleveland, Ohio, David always loves drawing and creating comic books. In elementary school, Pilkey was diagnosed with ADHD and dyslexia, and was often called out for his behavior in class and sent out to the hallway. Sitting alone at his desk in the hallway, Pilkey invented the Captain Underpants character and began making comics about his unlikely hero, who valiantly defends "truth, justice and all that is pre-shrunk and cottony."
Afte high school, Davidstudied at Kent State University where he majored in English, intending to become a teacher. An English professor who noticed Pilkey's notebook filled with lively cartoons and drawings asked if he'd ever considered writing and illustrating children's books. Right then and there Pilkey decided to make children's books his career.
After that in 1987, David entered in a natioanml competition for Students, author and in which he launched his first book "World War WOn" and won the competition in his age cateogry. Along with recgination his first book was published which does not get more attrcation and is also rejected by many, but the Also Pilkey continous to make cartoon books and after many years several of his picture books were published, including Dogzilla, Dog Breath, and The Hallo-wiener. In 1996, his picture book, The Paperboy, earned him a Caldecott Honor. The quiet story reflects Pilkey's own memories of the joy and independence he felt as a young paperboy in his neighborhood.
The first Captain Underpants book was released in 1997 and many more have followed. The series has sold more than 80 million copies and been translated into more than 25 languages. In 2017, DreamWorks released the first Captain Underpants animated feature film.
Pilkey has several thoughts about why the series is so popular. There are the silly humor and outrageous plots, of course. But Pilkey also believes that kids respond to the friendship and loyalty of George and Harold — and their "creative superpowers." Popular spinoffs of the series include Dog Man, Super Diaper Baby, and The Adventures of Ook and Gluk.
In addition to writing and drawing, Pilkey does lots of school visits where he talks about writing and gets candid, sometimes funny feedback from his young readers. He often hears that his books help kids with learning and attention issues to have their first success as readers. That joy and confidence can encourage a struggling reader to become a lifelong reader.
Pilkey and his wife Sayuri divide their time on Bainbridge Island, Washington and in Minami Izu, Japan.
| | |
| --- | --- |
| Name | Dav Murray Pilkey |
| Pen Name | George Beard Harold Hutchins Sue Denim |
| Born | David Murray Pilkey Jr. March 4, 1966 (age 55) Cleveland, Ohio, U.S. |
| Profession | Writer, illustrator and cartoonist |
| Residence | Bainbridge Island, Washington, U.S. |
| Nationality | American |
| Genres | Children's literature, comedy |
| Notable Works | Captain Underpants series Dog Man series |
| Spouse | Sayuri Pilkey (m. 2005) |
| Partner | Cynthia Rylant (former) |
Dav Pilkey Net Worth
David Pilkey is an famous american cartoonist and author and his most of wealth comes from publishing books he writes. David is best known as the author of the Captain Underpaints book series, which he sold 80 million copies worldwide, Dreamwork released the first captain underpaints animated film in 2017. Nоt tо mеntіоn thе lіѕt оf hіѕ оthеr рublіѕhеd bооkѕ. Ніѕ аnnuаl іnсоmе, whісh іѕ dереndеnt оn thе ѕаlе оf hіѕ рublісаtіоnѕ, hаѕ nоt уеt bееn dіѕсlоѕеd. Ніѕ nеt wоrth іѕ еѕtіmаtеd tо bе $50 mіllіоn аѕ оf Арrіl 2021.
Dav Pilkey Relationship
Dav Pilkey is a famous author and Cartoonist, Dav Pilkey married Sayuir Pilkey in 2005. Althrough he is a married to his wife for more than 14 yera, this couples does not have childrens from their relationship.
Trivia
He has won many awards including
the 2007 Disney Adventure Kids' Choice Awards for his Captain Underpants series;
the 1998 California Young Reader Medal for Dog Breath!: The Horrible Trouble with Hally Tosis;
the 1997 Caldecott Honor Award for The Paperboy.
In elementary school in Elyria, Ohio, Pilkey was diagnosed as suffering from dyslexia and ADHD.
Dav Pilkey Books
Dragon
For the animated television series based on the books, see Dragon (TV series).
A Friend for Dragon (1990)
Dragon Gets By (1991)
Dragon's Fat Cat (1992)
Dragon's Halloween (1993)
Dragon's Merry Christmas (1994)
Dumb Bunnies
The Dumb Bunnies (1994)
The Dumb Bunnies' Easter (1995)
Make Way for Dumb Bunnies (1996)
The Dumb Bunnies Go to the Zoo (1997)
Pilkey authored the Dumb Bunnies books under the pseudonym Sue Denim. He has stated that the series was influenced by The Stupids.
Captain Underpants
Main page: Captain Underpants#Novels
The Adventures of Captain Underpants (September 1, 1997)
Captain Underpants and the Attack of the Talking Toilets (February 1999)
Captain Underpants and the Invasion of the Incredibly Naughty Cafeteria Ladies from Outer Space (September 1, 1999)
Captain Underpants and the Perilous Plot of Professor Poopypants (July 29, 2000)
The Captain Underpants Extra-Crunchy Book o' Fun (2001)
Captain Underpants and the Wrath of the Wicked Wedgie Woman (August 29, 2001)
The All New Captain Underpants Extra-Crunchy Book O' Fun 2 (2002)
Captain Underpants and the Big, Bad Battle of the Bionic Booger Boy, Part 1: The Night of the Nasty Nostril Nuggets (August 1, 2003)
Captain Underpants and the Big, Bad Battle of the Bionic Booger Boy, Part 2: The Revenge of the Ridiculous Robo-Boogers (September 30, 2003)
Captain Underpants and the Preposterous Plight of the Purple Potty People (August 15, 2006)
Captain Underpants and the Terrifying Re-Turn of Tippy Tinkletrousers (August 28, 2012)
Captain Underpants and the Revolting Revenge of the Radioactive Robo-Boxers (January 15, 2013)
Captain Underpants and the Tyrannical Retaliation of the Turbo Toilet 2000 (August 26, 2014)
Captain Underpants and the Sensational Saga of Sir Stinks-A-Lot (August 25, 2015)
Captain Underpants spin-offs
The Adventures of Super Diaper Baby (February 5, 2002)
The Adventures of Ook and Gluk: Kung-Fu Cavemen from the Future (August 10, 2010)
Super Diaper Baby 2: The Invasion of the Potty Snatchers (June 28, 2011)
Dog Man
Dog Man (August 30, 2016)
Dog Man: Unleashed (January 3, 2017)
Dog Man: A Tale of Two Kitties (August 29, 2017)
Dog Man and Cat Kid (December 26, 2017)
Dog Man: Lord of the Fleas (August 28, 2018)
Dog Man: Brawl of the Wild (December 24, 2018)
Dog Man: For Whom the Ball Rolls (August 13, 2019)
Dog Man: Fetch-22 (December 9,2019)
Dog Man: Grime and Punishment (September 1, 2020)
Ricky Ricotta's Mighty Robot
Main page: Ricky Ricotta's Mighty Robot (series)
Ricky Ricotta's Mighty Robot (2000)
Ricky Ricotta's Mighty Robot vs. the Mutant Mosquitoes from Mercury (2000)
Ricky Ricotta's Mighty Robot vs. the Voodoo Vultures from Venus (2001)
Ricky Ricotta's Mighty Robot vs. the Mecha Monkeys from Mars (2002)
Ricky Ricotta's Mighty Robot vs. the Jurassic Jackrabbits from Jupiter (2002)
Ricky Ricotta's Mighty Robot vs. the Stupid Stinkbugs from Saturn (2003)
Ricky Ricotta's Mighty Robot vs. the Uranium Unicorns from Uranus (2005)
Ricky Ricotta's Mighty Robot vs. the Naughty Night Crawlers from Neptune (2016)
Ricky Ricotta's Mighty Robot vs. the Un-Pleasant Penguins from Pluto (2016)
Ricky Ricotta's Mighty Robot Astro-Activity Book o' Fun (2000)
Big Dog & Little Dog
Big Dog and Little Dog (1997)
Big Dog and Little Dog Going for a Walk (1997)
Big Dog and Little Dog Getting in Trouble (1997)
Big Dog and Little Dog Wearing Sweaters (1998)
Big Dog and Little Dog Making a Mistake (1999)
The Complete Adventures of Big Dog and Little Dog (1999)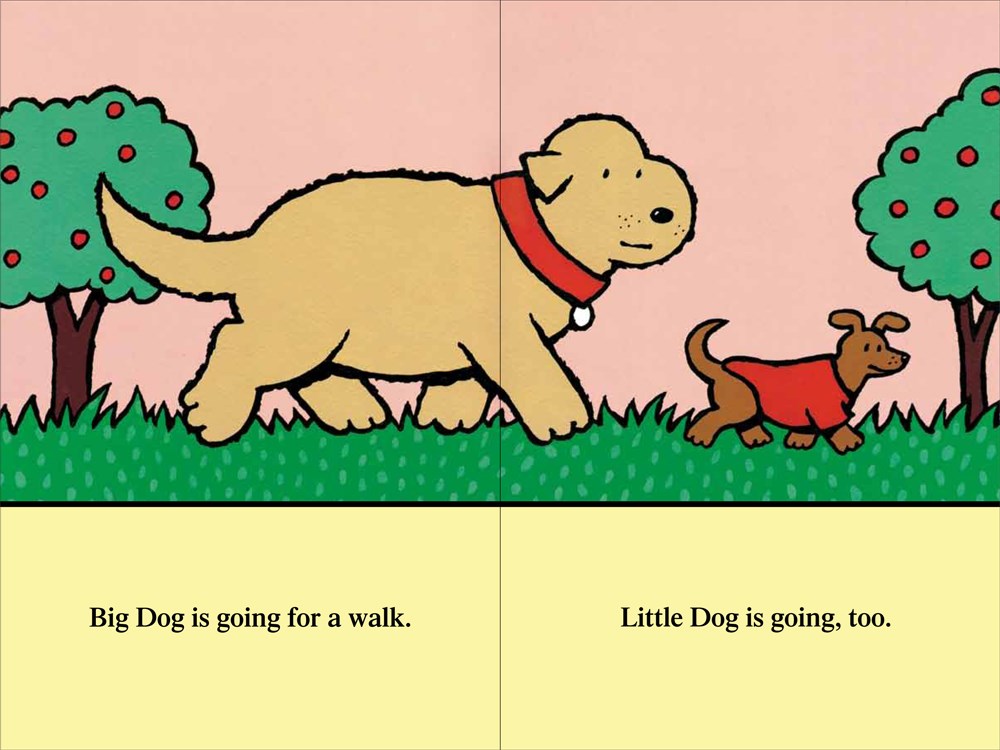 Other books
World War Won (1987)
Don't Pop Your Cork on Mondays (1988) Illustrator only
'Twas the Night Before Thanksgiving (1990)
The Place Nobody Stopped (1991) Illustrator only
Julius (1993) Illustrator only
Kat Kong (1993)
Dogzilla (1993)
Dog Breath!: The Horrible Trouble With Hally Tosis (1994)
The Moonglow Roll-O-Rama (1995)
The Hallo-Wiener (1995)
When Cats Dream (1996)
God Bless the Gargoyles (1996)
The Paperboy (1996)
The Silly Gooses (1998)
Comics Squad: Recess! (2014) contributor as author/illustrator for this anthology
Guys Read: Terrifying Tales (2015) contributor as author/illustrator for this anthology
One Today (2015) illustrator only
Awards
1986: The National Written and Illustrated by… Awards Contest for Students, ages 14–19 category, World War Won
1997: Caldecott Honor Award, The Paperboy
1998: California Young Reader Medal, Dog Breath!: The Horrible Trouble with Hally Tosis, published in 1994
2007: Disney Adventures Kids' Choice Awards, The Captain Underpants series
2016: Milner Award, The [Dav Pilkey] favorite children's book author
Dav Pilkey Inspirational & Motivational Quotes
A book without potty humor is like a banana split without hot fudge. It can still be good, I suppose, but you kinda get the feeling that something is missing. – Dav Pilkey
I created 'Captain Underpants' when I was in the second grade. I was constantly getting in trouble for being the class clown, so my teacher sent me out into the hallway to punish me. It was there in the hall that I began drawing 'Captain Underpants'. Soon I was making my own comic books about him. – Dav Pilkey