Chhota Bheem is an India Animated television Cartoon series that was created by Rajiv Chilaka. The owner and writer of the Chhota Bheem series Mr. Rajiv Chilaka had established his Green Gold Studio in the year 2001 when he decided to open his cartoon series instead of working for others, He had to struggle as no TV channel was ready to pick up the Indian animation content and most Indian contents aired were mythological in natures company produced Vikram Betal and Krishna animation shows which convinced Pogo TV to give chance. After five years of conception, Chhota Bheem made his first appearance in 2008 on Pogo TV. He is financed by Samir Jain, who belongs to the famous Jain-cum-Agarwal business family from Meerut.
Character Sketch
Chhota Bheem
Bheem is an adventurous and fun-loving 9-year-old boy who is gifted with extraordinary superhuman strength, he is the main character in the animated series Chhota Bheem, he is an intelligent and hardworking boy who always helps others and protect her friends and her king Raja Indravarma from various evil sprites and enemies. His superpowers are like a boom for her village Dholakpur, which is constantly beset by all kinds of pens. Bheem is a well-known child in the village and all the peoples o village including raja Indravarma looks up for the bheem solution for the problems of the village. Bheem has a big heart and he always uses his strength to help those who are poor, wronged or needy, and may be considered a little guardian of the villagers and the animals in and around Dholakpur. Bheem is often seen defeating enemies who attack Dholakpur or harm the villagers, like the evil demon Kirmada, the robber Mangal Singh, and the evil witch. Through his valiant acts, Bheem and his friends have earned a good image and position in the eyes of villagers and Raja Indravarma by helping the needy peoples and by helping the Raja Indravarma in the good fare works of Villages. As Chhota Bheem is 9 years old he loves food and has an insatiable appetite for laddus, which in fact, gives him a surge of energy and makes him even stronger than he normally is. These laddus are been made by the chutki's mother knows as Tun-Tun most. Sometimes tun tun mausi itself provides laddus to the bheem and his friends and the laddus are been provided by the chutki, but sometimes bheem itself stealing laddus from the tun tun mosi shops and this is the only prominent fault. Bheem once even won a competition organized by Tuntun on who could eat the most laddus. He is also good at most sports and is fairly intelligent. He is depicted as a fit boy, almost always wearing nothing but an orange dhoti (loose cloth worn around the groin).
Chutki
Chutki is a 7 year's old girl and the daughter of Tun Tun Mosi. She is a beautiful girl with a kind heart and helpful nature, She has a positive attitude towards everyone, She is the only girl in the friend circle of Chhota Bheem and the team including Kalia and Dholu & Bholu. She is Bheem's closest friend and assists him on their adventures. Sometimes, Bheem relies upon her for solving any puzzled or difficult situations. She had first met Bheem, Raju, and Jaggu when Bheem had saved her from a raging bull. Chutki is the well-known girl in the village Dholakpur, she is much responsible for work in the household and his shop, She is the best friend of Bheem, Raju & Jaggu, As sometimes she steals laddus from his shop from his friends Among the group, Chutki is the most intelligent. She is very skilled in chess and has won laurels for Dholakpur in the game. she is greedy for gold in the episode "The Curse of Bramhbhatt-Part 2". Chutki's hair is always tied into two plaits, she is fair-skinned with big eyes and has a slender build, and she generally wears a pink two-piece dress. She is usually very calm and composed but sometimes she becomes angry especially when Bheem interacts with any other girl. She defeated many people like Bulbul in "Girls vs Girls", etc. She takes care of Bheem and likes to give him laddus stolen from her mother.
Raju ( Mighty Raju)
Raju is one of the main characters in the Chhota Bheem Animated series, he is a 4 years old boy, who is been know in the village for his courage and fun-loving attitude, Raju's size belies his courage, which he gets from his father, the Senapati (chief officer) of the King's army. Raju also wants to be the Senapati of the Army. (seen in the episode "Chutki's Wish"). As seen in most of the episodes Raju always wears blue underwear and he is also blad in the series and has only two hair on his head. he is very good at archery and has won the "Arjuna Cup". He often loses his temper when he sees something wrong happening. He appears as the superhero protagonist in the spin-off movie "Mighty Raju".

Jaggu (Bandar)
Jaggu is money or Bandar with a god gifted ability to talk, Jaggu is a fun-loving creature who enjoys the company of bheem and his friends, As showed in many episodes that Jaggu is much cleaver and he has his special ways of solving problems with her knowledge and amazing humor, Jaggu also likes to eat tun tun mosi's laddu, Ice Cream and banana's. Jaggu and his all friends like to explore the different areas of the forest, As Jagggu is an expert in climbing and swinging bheem also has learned his techniques from the jaggu, He also loves playing tricks on Kalia and Dholu Bholu. He wants to be the protector of all animals in the jungle (seen in the episode "Chutki's Wish").
Kalia
Kalia is a 12 years old boy who has a muscular body with some biceps and triceps, he is a quite greedy boy who always wants to defeat everyone in some or other task especially Bheem in front of everyone. Kalia is known as KALIA PAHELWAN in his village because of his body type. Kali also daydreams that he is the only one strongest and courageous person in his village Dholakpur, Kali has two silly followers named Dholu and Bholu, who sometimes help Kalia in his plans to defeat Bheem and at other times completely abandon him, As shown always in the episodes that Kalia is a boy who always run away when any big problem arises, but the fact is not true he sometimes also helps bheem to save Dholakpur from the danger. Kalia has won some awards and medals in the village cycle race in which he gets the result of his hard work and truthfulness, He also won in High Jump Competition and won a trophy. He also has an uncle in Mumbai who also gives the shitty advice to defeat bheem.
Dholu and Bholu
Dholu and Bholu are somewhat 7-8-year-old identical twins who are followers of Kalia Pahelwan, As in some of the episodes shown than both Dholu and Bholu are not strong enough but they fight with others bask of Kalia Pahelwan. Dholu and Bholu are also the kindest boys in the Village they always help the person in need they possess a positive attitude and nature towards everyone in the Village. They are personalities with full happiness and Joyful Nature.
Indumati
Indumati is King's Indravarma's Daughter, She is a pretty girl who enjoys the partnership of bheem and his friends. She is one of the princesses of the Dholakpur Kingdom.
Raja Indravarma
Raja Indravarma is the King of the Village Dholakpur. He is a very Kind Hearted and Valiant warrior who always takes care of his villagers in any problems and he also relies on bheem in any cries in the villages, he also has a daughter named Rani Indumati, He is also shown to be thoughtful on every occasion. He is a hockey player and also played an important role in a hockey match by making Bheem win.
Dhooni Baba
Dhooni Baba is a sage who lives in a cave near Dholakpur. In a former episode, he was called "Baba Bol Bachchan" and a body smeared with ash and always seems to be meditating on some needles. But later in some episodes, it is seen that his body has no ash smeared and he walks with the help of a walking stick, He has been described as the sage who knows all the solution to almost problems and diseases and he always gives advice and solution to Bheem and his friends to help others. In one of the Episodes named "Superheroes," he had granted superpowers to Bheem and Raju for one day to help others. He has helped Bheem on various occasions like in the episodes "Curse of Bramhabhatt", "Chhota Bheem Aur Krishna", "Daku Mangal Singh" and "King Chandravarma".
Tuntun Mausi
Tuntun Mausi is also one of the main characters of Chhota Bheem,Tuntun Mausi is the mother of Chutki. And she owns a shop in the market of Dholakpur where she sells Laddus. Her laddus are considered as one of the best laddus in the whole dholakpur. She always stays angry with bheem as bheem steals his laddus from his shop, But she also loves all the friends of Chutki and sometimes gives laddus as a treat to all the children.
Kichak
Kichak is 16 years old boy who is good at Wrestling and belongs to the Phelwanpur the Neighbour of Dholakpur. Kichak and Kalia are somewhat the same personalities they both are jealous of Bheem, Bheem is more popular than Kichak and Kalia. The kichak is always been defeated in all the games and Chal[langes that he does with Bheem. Like Cycle Racing, Wrestling, Swimming, Bull Race, Cricket Match, Hockey, and football.
Chhota Manu
Chhota Manu is a new Character in the Chhota Bheem first showed in the episodes of "The Boxing Match". The Chhota Manu is from the pehelwanpur and he Is also a good friend of Kichak.
Daku Mangal Singh
Daku Mangal Singh is also one of the main characters in the Chhota bheem cartoon, he is named after Gabber Singh from the famous movies of Sholay, he always used to terrify the peoples of Dholakpur with their Arms and Teams, He always tries to kidnap Rani Indumati but he always
Professor Shastri Dhoomketoo
He is an Inventor who lives in Gyanpur. He has invented many things which helps Bheem and others, he has invented A hot Air Balloon, A time Machine, A super-fast bicycle and many more, But he always in a trouble because of his invention like some the things are mismanufactured or some the inventions are stolen and create a problem.
Shivani
Shivani is Bheem's foster sister who lives in Pehelwanpur and owns a Dabha named "Shivani Ka Dhaba". She is in trouble after his dad is imprisoned for no reason by the Cruel king of Pehelwanpur. Shivani tries to free his dad but needs 500 gold coins to free him from imprisonment. For this, she runs a  Dhaba and earns some gold coins but the Pehalwan tries to take away the Dhaba, But bheem comes to her rescue her and even helps him to free his father from jail. In the episodes of "20–20 Cricket" and the movie – Chhota Bheem: Bheem vs Aliens, she has been seen supporting Bheem's team. Also, Shivani and Chutki are shown to be good friends.
Buri Jadugarni
Berni Jadugarni is an evil sorceress who is the enemy of Bheem and Dholakpur. She first appeared in the episode "The Chocolate World" where she tries to become the queen of dholakpur but never succeeds because of bheem and his friends she is also called Buri pari or Buri Chudel, In the episode of " Dholakpur ki nayi rani" she has a son who helps her in becoming the queen.
Aachi Jadugarni
Aachi Jadugarni is a spirit but she is a good spirit who helps others. She is the one who helps Bheem in defeating Buri Jadugarni. She is also called aachi Pari, She lives in Agadam( A place of good wizards and Witches) or the forest of Dholakpur in a hut.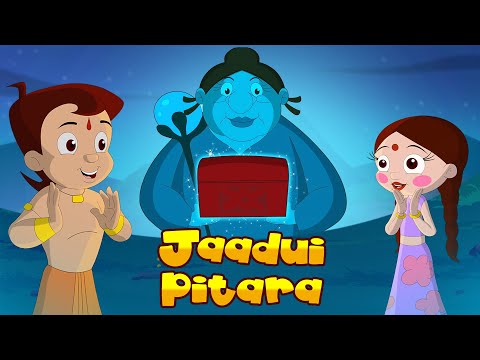 Voice Cast in Hindi
Given Below are the Voice artist of Chhota Bheem
| | |
| --- | --- |
| Pinki Rajput (Present) Rupa Bhimani (Former) | Chutki |
| Julie Tejwani | Raju |
| Rajesh Kava | Jaggu |
| Shailey Dubey (Present ) Sabina Malik Mausam (Former) | Kalia |
| Jigna Bhardwaj | Dholu Bholu |
List of Chhota Bheem Movies
Chhota Bheem – Get all the information All Chhota Bheem Movies from Starting till Now, Check out the Chhota Bheem Movie list. Chhota Bheem Aur Krishna, Chhota Bheem and kirmada, etc…..
Chhota Bheem Aur Krishna
Chhota Bheem Aur Krishna in Pataliputra
Chhota Bheem aur Nawadir ke Shehzade
Chhota Bheem and the Curse of Damyaan [3]
Chhota Bheem and the Throne of Bali [3]
Chhota Bheem : The Incan Advanture
Chhota Bheem ka Kalari Adventure
Chhota Bheem : Dinosaur World
Chhota Bheem aur Singhapura ka Rahasya
Chhota Bheem Aur Krishna in The Rise Of Kirmada
Chhota Bheem an Krishna : Mayanagri
Chhota Bheem And Krishna vs Zimbaara
Bheem Vs Aliens
Chhota Bheem Journey to Petra
Chhota Bheem Master Of Shaolin
Chhota Bheem Dholakpur to Kathmandu
Chhota Bheem Aur Hanuman
Chhota Bheem Aur Ganesh and the Amazing Oddesey
Chhota Bheem And The Crown of Valahalla
Chhota Bheem African Safari
Chhota Bheem Dus pe Dus
Bheemayan (Adopted from Ramayan)
Chhota Bheem aur Paanch Ajoobe
Chhota Bheem Neeli Pahadi
Chhota Bheem Aur Chhalchhaaya
Chhota Bheem and Sky Dragon
Chhota Bheem & The Shinobi Secret
Chhota Bheem: Himalayan Adventure [8]
Chhota Bheem Ka Romani Adventure
Chhota Bheem Troll Se Takkar
Chhota Bheem aur Arazim Ka Raaz
Chhota Bheem: Kung Fu Dhamaka
Choota Bheem ki Baazi
Bheem In The City
Chhota Bheem ka Roosi Romanch
Chhota Bheem aur Kaalsura ka Jaduii Jall
Chhota Bheem and The Rise of Damyann
Chhota Bheem aur Kaala Yodha
Chhota Bheem: Mission Mangalayan
Chhota Bheem: Mayavi Gorgan
Chhota Bheem: Banjara Masti
Chhota Bheem ban gaye Super Star
Chhota Bheem and The Broken Amulet
Chhota Bheem and Krishna: Masti in Vrindavan
Chhota Bheem in Junglee Kabeela
Some Special Character of Chhota Bheem
Mighty Raju
Mighty Raju is the first spin-off series of Chhota Bheem focusing on the character Raju in the modern world, who has superpowers and is known as "Mighty Raju". He lives in the modern city, Aryanagar
Super Bheem
Super Bheem, a third spin-off series of Chhota Bheem was launched in 2017. but originally it was launched in May 2016, With the birthday special movie "Main hoon Super Bheem". It originally premiered on Pogo TV in 2017 but it also aired in 2019 on Cartoon Network.
Mighty Little Bheem
Mighty Little Bheem, a fourth spin-off launched in 2019 on Netflix.  It is intended for younger children. In this series, the story's focus is on 1 – 2-year-old Bheem. Another thing to note is that in this series, Kalia (Bheem's Friend) is known as Vijay instead.
FAQ
Who is Chhota Bheem wife ?
The fictional character Chhota Bheem is not married yet, he is single.
 How old is Chutki?
The fictional character Chutki Is 7 years old.
 How old is Raju?
The fictional character Raju Is 4 years old.
 How old is Kalia?
The fictional character Kalia Is 12 years old.
How old is Dholu and Bholu ?
The fictional character Dholu and Bholu Is 8 year old.
Who is Chhota Bheem wife ?
The fictional character Chhota Bheem is not married yet, he is single.
What is the age of Chhota Bheem?
Chhota Bheem is 9 Years old boy dholakpur.
Who will be the wife of Chhota Bheem?
The viewers of the show Chhota Bheem rumors about the Chhota Bheem marrying Rajkumari Indumati and leaving behind his best friend chutki.
What is the date of birth of Chhota Bheem?
Chhota Bheem was born on 3 August 1992 in Srinagar, Kashmir.